The Road to Success begins with SealMaster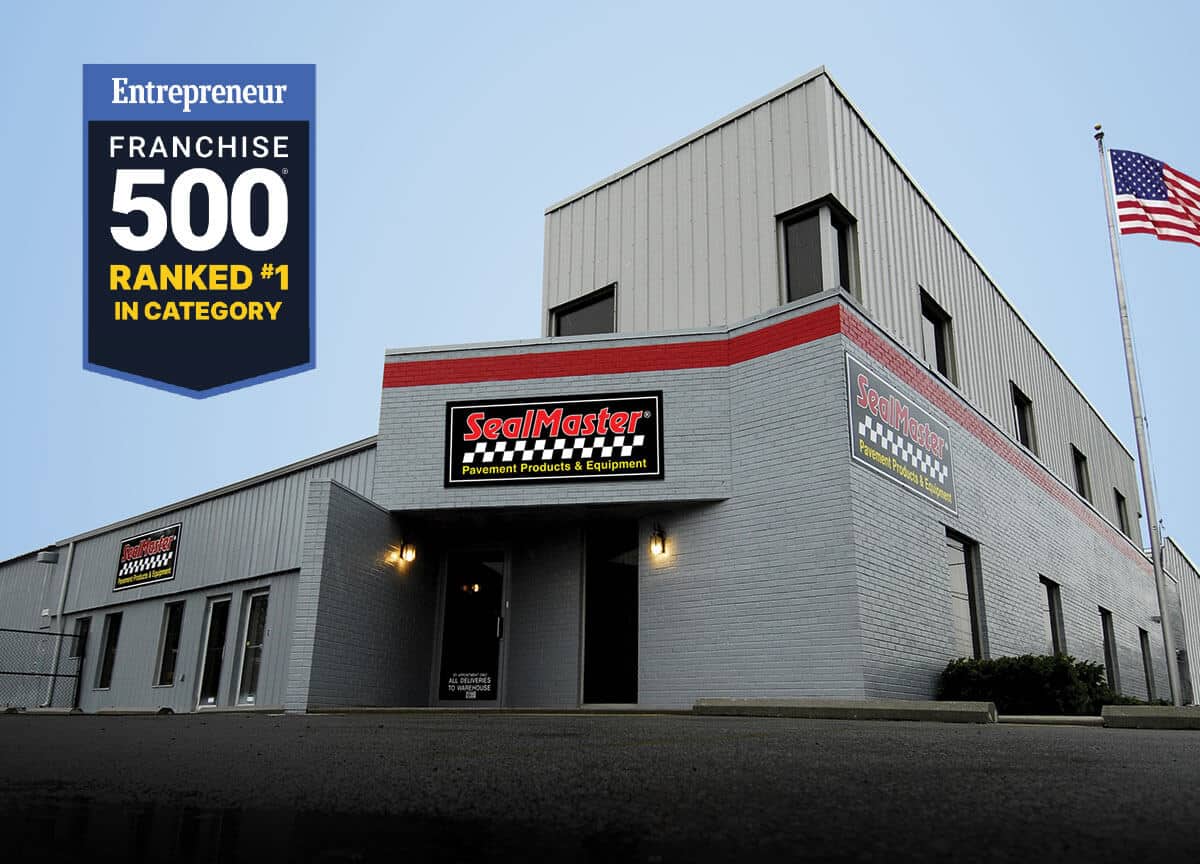 Become Part of the SealMaster Team
The SealMaster Franchise Program offers qualified entrepreneurs an excellent opportunity to become part of an organization recognized as an industry leader.
Become Part of the SealMaster Team
The SealMaster Franchise Program offers qualified entrepreneurs an excellent opportunity to become part of an organization recognized as an industry leader. Since 1969, the name SealMaster has been synonymous with quality pavement products and equipment.
A SealMaster Franchise enables you to manufacture SealMaster pavement sealers on site and sell a full line of pavement maintenance products and equipment into the billion dollar pavement maintenance industry.
The territories granted to SealMaster Franchises allow for exceptional growth potential. In many cases statewide territories are granted to Franchisees. The size of territory, the breadth of product line, and the ever increasing need for pavement maintenance are just a few of the reasons why SealMaster is rated as such a highly attractive business opportunity.
As a SealMaster Franchise you'll receive intensive training and ongoing technical and sales/marketing support. Industry experience is not a requirement for becoming a SealMaster Franchise owner. However, your desire to take control of your future and realize the rewards of owning your own business is important.
Contact us today at (800) 341-7325 for more information on available franchises.
Recession-resistant Franchise
$7.3 million average gross revenue among 22 manufacturing plants and territories served.*
Large Territories – In Some Cases up to an Entire State
#1 Ranked Franchise in Category by Entrepreneur Magazine
Typical Investment – $650,000 to $1 million.
SBA Approved for Easier Financing
Substantial Earning Potential
Industry Experience not Required – Training/ongoing Support Provided
*According to InFrasys Inc. FDD FY 2019 reporting period ending 09/30/2020. This is not an offer to buy a franchise. The offer of a franchise can be made only through the delivery of an FDD. Certain states require that we register the FDD in those states.
Hear From Our Franchisees
"I made it my mission to own a SealMaster franchise after I joined the company as an employee 16 years ago and watched franchisees grow and become very financially successful. I knew I could do it, too, and I couldn't be more excited for my career and family's future."
"Buying my SealMaster franchise was my best decision ever! After 20 years it feels like a new beginning, especially with my sons taking a strong role and expanding the business."
"With my SealMaster franchise, my net worth and income have grown heartily and consistently, in spite of the worst downturn in the economy I've ever experienced."
"Given the investment, I can't imagine any other franchise with the income potential SealMaster offers. Our territories are huge. We just keep growing and growing and to me, the market is limitless."
"The SealMaster franchise is not only a nice income generator, it's a great capital asset and wealth builder. The SealMaster franchise has been the best investment in my life. It has allowed me a lifestyle beyond my hopes and dreams."
"I bought my SealMaster franchise 20 years ago and if I had to do it all over again, I would do it in a heartbeat. It was the best business decision I ever made."
Get Started Today!
U.s. Franchise Opportunities
North
Iowa
Nebraska
Dakotas
Montana
West
California
Nevada
Washington
International
Canada
Mexico
South America
Europe
Australia
*OUR WEBSITE HAS NOT BEEN REVIEWED OR APPROVED BY THE CALIFORNIA DEPARTMENT OF CORPORATIONS. ANY COMPLAINTS CONCERNING THE CONTENT OF THIS WEBSITE MAY BE DIRECTED TO THE CALIFORNIA DEPARTMENT OF CORPORATIONS At www.corp.ca.gov
Franchise Disclaimer: This information is not intended as an offer to sell, or the solicitation of an offer to buy, a franchise. It is for informational purposes only.
Currently, the following states and countries regulate the offer and sale of franchises:
In the US: California, Hawaii, Illinois, Indiana, Maryland, Michigan, Minnesota, New York, North Dakota, Oregon, Rhode Island, South Dakota, Virginia, Washington and Wisconsin.
International: Australia, Brazil, Canada (Alberta and Ontario only), China, France, Indonesia, Italy, Japan, Kazakhstan, Korea, Malaysia, Mexico, Romania, Russia, Spain and Taiwan.
If you are a resident of one of these states or countries, we will not offer you a franchise unless and until we have complied with applicable pre-sale registration and disclosure requirements in your jurisdiction.