SportMaster Sport Surfaces
SportMaster is a premium brand of sport surfacing and repair products. Our 100% acrylic formulations are balanced to produce a premium quality result, with easy mixing and application characteristics. We use only the best acrylic resins and quality pigments to achieve durable and vibrant surfaces for professional, recreational, and residential installations throughout the world.
Call (800) 395-7325 for the SealMaster nearest you!
Surfacing Systems
Our sport surfaces are ideal for a wide variety of indoor and outdoor facilities. Here are just a few of the more common uses: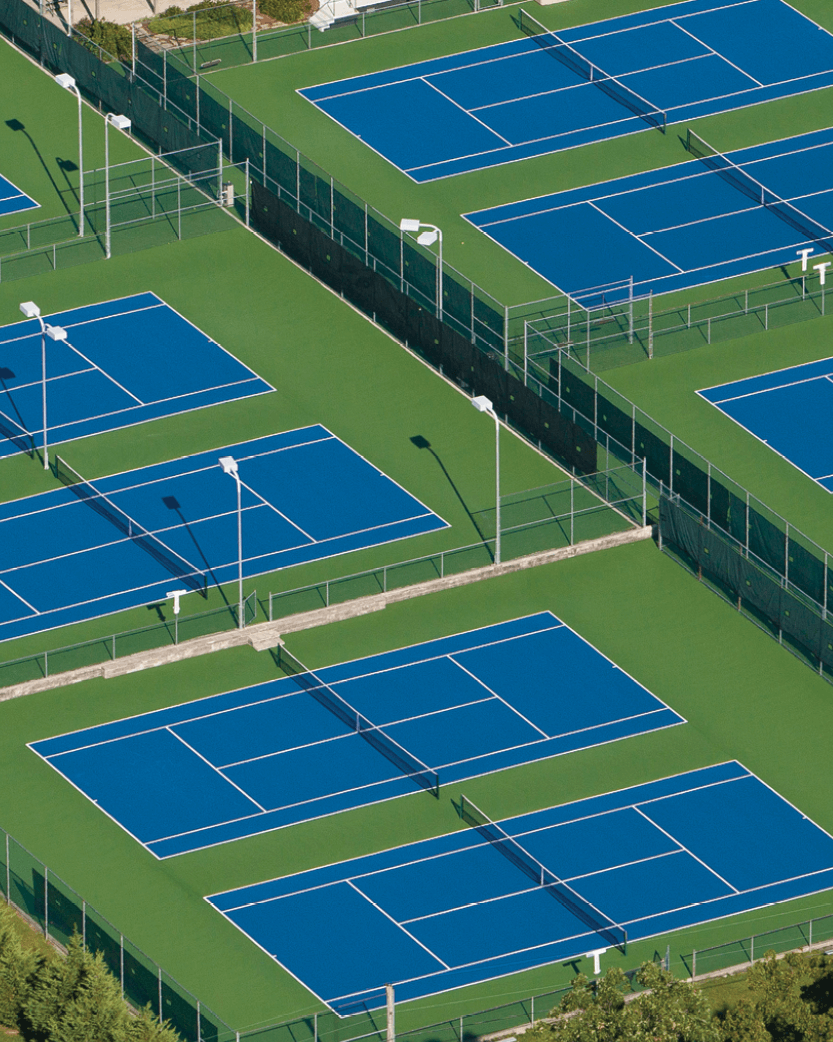 Tennis Court Resurfacing & Repair
SportMaster tennis court surfaces are technically advanced, 100% acrylic sports surfaces. Many people refer to tennis court surfaces as "tennis court paint", but SportMaster systems are designed to provide consistent speed of play, texture, and vibrant color to any indoor or outdoor facility. SportMaster tennis court surfaces are formulated to resist fading and withstand a variety of weather conditions from ice and snow to intense heat and ultra-violet rays.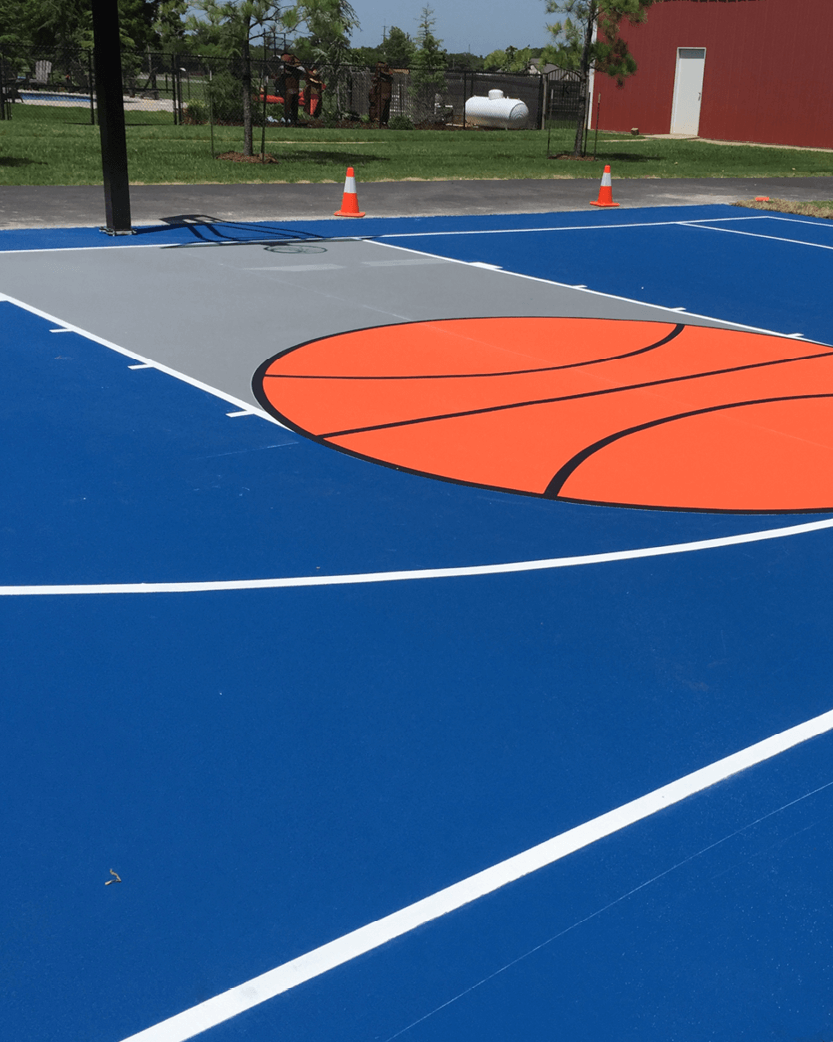 Basketball Court Surfaces
Basketball and multi-purpose courts are found everywhere from parks and schools to clubs and homes. SportMaster systems are ideal for any indoor or outdoor court surface in any part of the world. Netball, Volleyball, and a variety of activities can be played on an acrylic game court surface.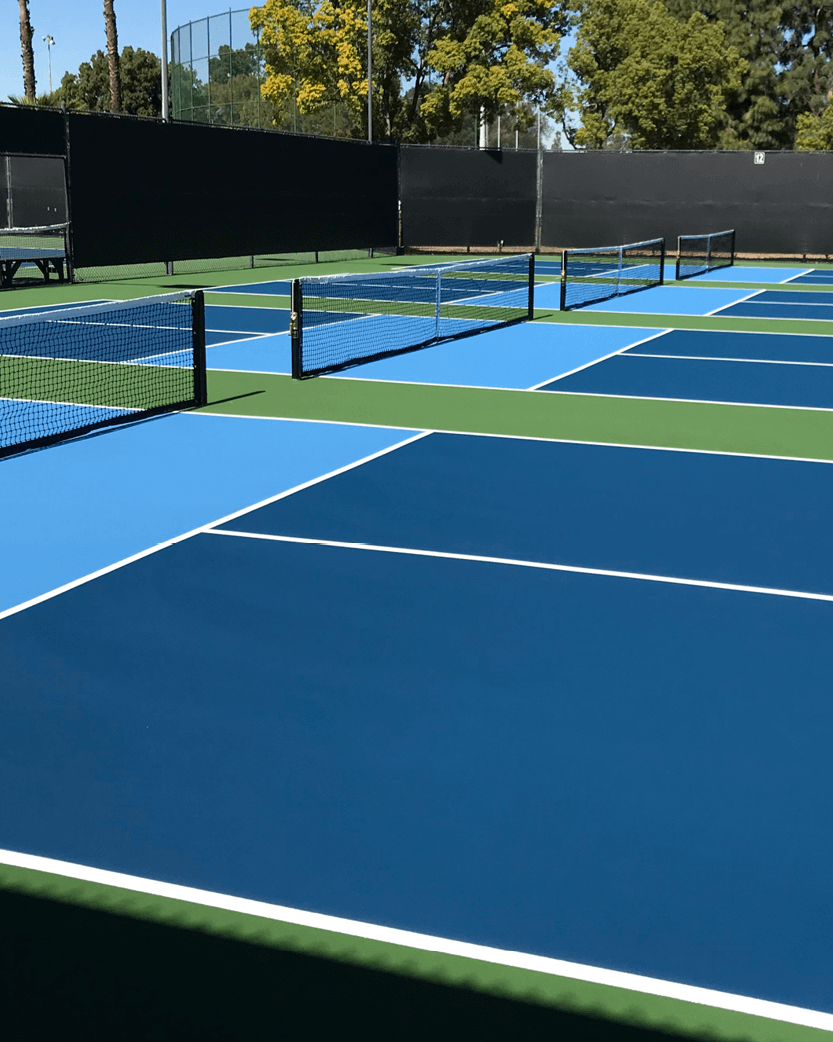 Pickleball Court Surfaces & Construction
SportMaster contractors install Pickleball court surfaces and perform construction using the same methods as utilized on tennis courts. When building a Pickleball court, is equally important to secure an experienced contractor with knowledge of tennis court and sports construction. This will ensure that you get proper construction, slope, and drainage for your Pickleball court.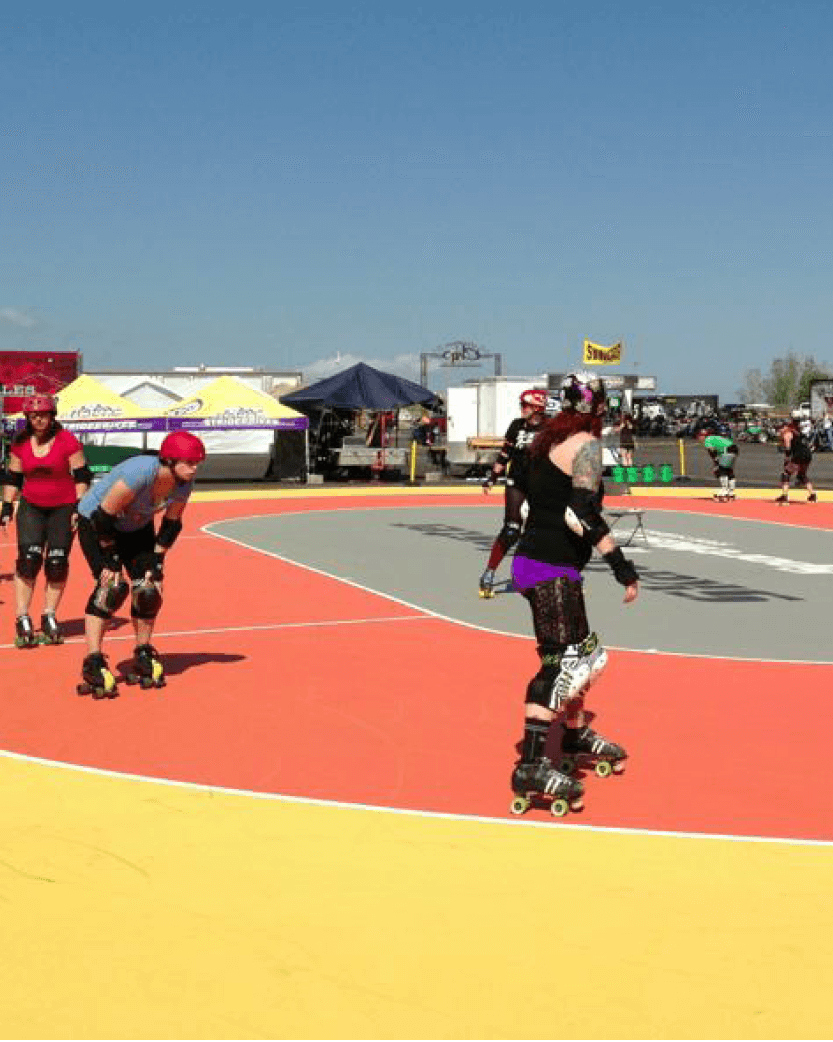 Inline Skating & Roller Hockey Surfacing
Skateboarding & Roller Sports
SkateMaster is a 100% acrylic coating designed to provide a durable surface for inline skating and roller hockey. From casual skating to the rigors of competitive inline hockey, SkateMaster provides the optimum surface. Standard colors are Ice Blue and Dove Gray. Neutral SkateMaster is also available when additional colors are desired. Simply mix ColorPlus Pigment Dispersion with Neutral SkateMaster to achieve desired color. Mix 4 gallons of ColorPlus Pigment Dispersion with one 55-gallon drum of Neutral SkateMaster™. Or, mix two gallons of ColorPlus Pigment Dispersion with one 30 gallon keg of Neutral SkateMaster.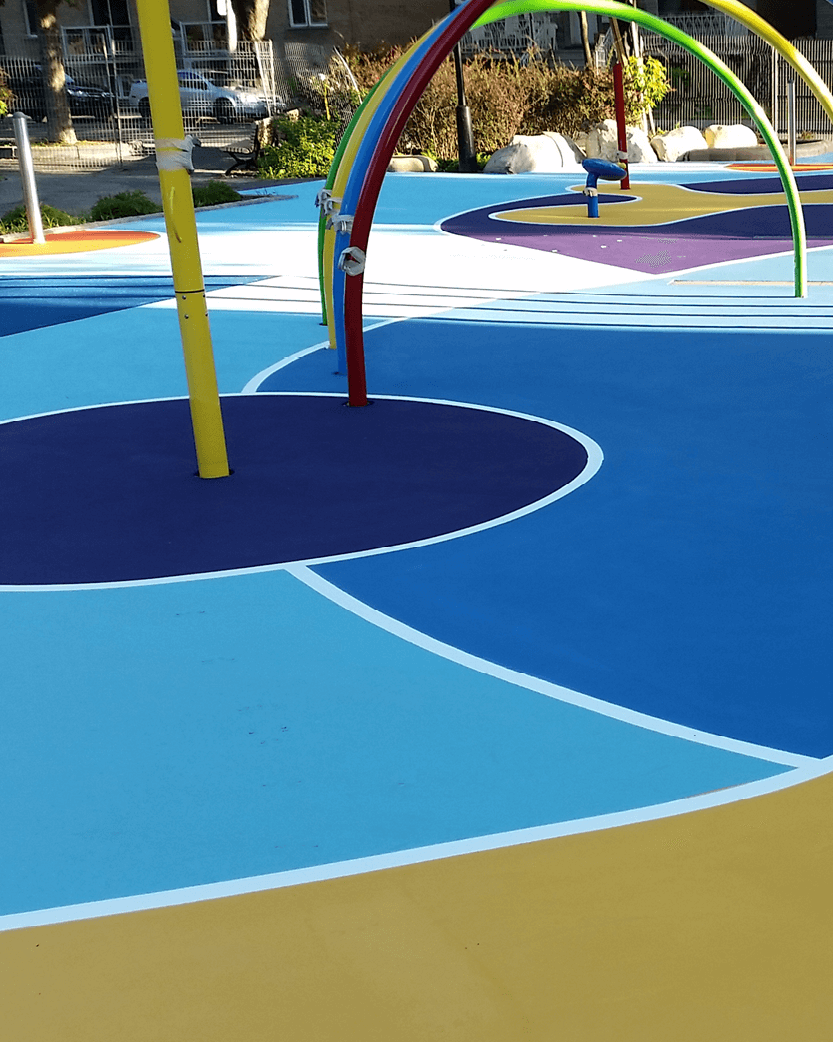 Playground & Game Court Surfacing
Multipurpose Courts & Recreational Areas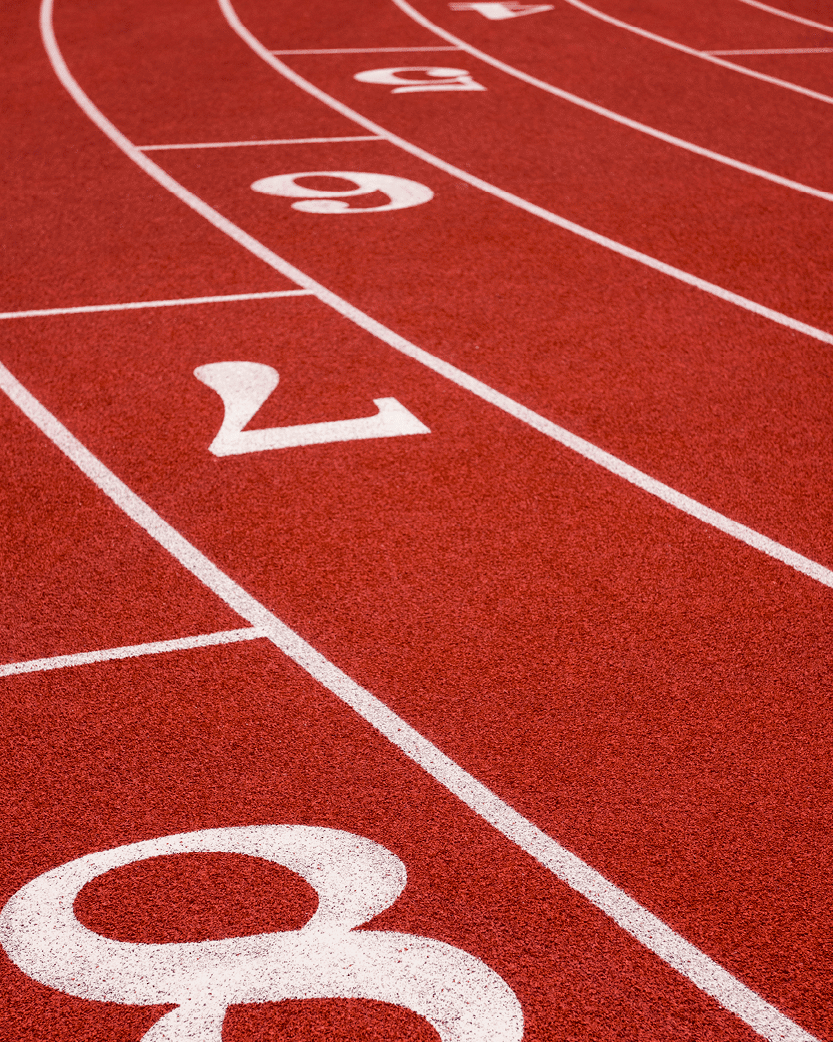 Running Track Surfaces & Repair
SportMaster running track systems are designed for application over properly prepared asphalt, concrete or latex-based running track surfaces. TrackMaster systems contain small rubber granules that enhance the flexibility of the coating and add to the overall shock absorption of the surface. Our synthetic running track formulations beautify and protect against oxidation, raveling, and moisture penetration.
Worldwide Network of Installers

We supply and support tennis court builders and resurfacing professionals throughout the world. From color coatings and tennis court crack fillers to mixing equipment and tools, SealMaster is your one-stop-shop for sport surfacing materials.
SportMaster Website
Our complete SportMaster website has additional information and tools, specific to the SportMaster line of products and the sports industry.
Detailed product information including descriptions, coverage rates, etc
Layout and dimensions for tennis courts, basketball courts and many other commonly played sports
Product specifications, MSDS sheets, detailed mixing diagrams, and technical information
Information and tools for Architects & Specifiers: CSI, 3-part guide specifications for court resurfacing, tennis court resurfacing cost, tennis court maintenance manual, LEED credit information page for SportMaster systems
"Locate Installer" page for sending us a request to refer a qualified tennis court builder or resurfacing contractor
Court Designer: A visual tool to see the many options available for tennis court colors