SportMaster is a globally recognized leading manufacturer of tennis court resurfacing products, tennis court paint, and tennis court crack filling and repair products. Our 100% acrylic tennis court color coatings produce highly attractive, durable surfaces with player-friendly spin responsive play. SportMaster also produces premium quality basketball paint and coatings, pickleball paint and coatings, and running track surfaces and repair products.
Sport Surfacing Systems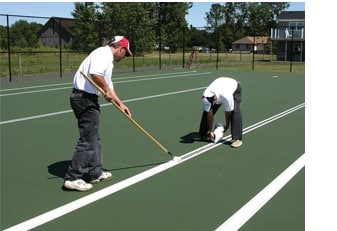 Our sport surfaces are ideal for a wide variety of indoor and outdoor facilities. Here are just a few of the more common uses:
Tennis Court Resurfacing & Repair
Basketball Court Surfaces
Inline Skating & Roller Hockey Surfacing (Skateboarding & Roller Sports)
Playground & Game Court Surfacing (Multipurpose Courts & Recreational Areas)
Running Track Surfaces & Repair
Worldwide Network of Installers
Schedule Your FREE Tennis Court Inspection and Estimate for Resurfacing and Repair.
Our nationwide network of highly trained and experienced tennis court surfacing professionals are available to provide on-site project recommendations as well as full application services to assure quality results at competitive prices on every project.
Simply complete and submit form below and a representative will respond to your request.
Which coating should be used for a tennis court or basketball court, or can the same surface be used for multiple sports?
Download this FREE white paper to learn what the experts at SportMaster have to say.
No more guessing – Just the facts!